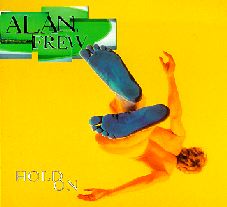 ---
"Making a solo album seems to me to be somewhat similar to taking a 'solo' space flight to the stars. You're only really solo after you lift off and even then without mission control you cannot stay on course. So to call this a solo album would be rather pretentious and down right unfactual! My love and thanks to all of you who helped so much to get this rocketship off of the ground and also to those of you working so hard to keep it on course." - Alan Frew

From the liner notes of the EMI Album "Hold On"

---
Hold On is the first solo album from ex Glass Tiger lead singer Alan Frew.
Produced by John Jones and Alan Frew, and Engineered by John Jones, Steve Churchyard and Walter Turbitt, who also added production, the album has guest performances by:

Steve Ferrone from Tom Petty, Duran Duran and the Average White Band
John Pierce from Hughy Lewis and the News
Robin Le Mesurier from Rod Stewart and Johnny Haliday
Christopher Garcia from Belinda Carlisles Band
Jim Cregan from The Rod Stewart Group
Justin Clayton from Julian Lennons Band
Sam Reid and Al Connelly from Glass Tiger
Gerald O'brien
Laura Harding
The album has spawned 3 top ten hits in Canada including the number one Jones/Frew composition - "So Blind"
---
the track listing:

You're The One

Healing Hands

It Always Feels the Same

Hold On

I am With You Tonight

Learning to Fly

So Blind

Once Upon a Time

Cloud 9

If Only I Could Dream

I Wonder Why

Falling At Your Feet
---
The album information is:
Artist: Alan Frew
Album: Hold On
Company: EMI Records
Cat Num: E2 7 2438 28990 2 0
Contact EMI Music Canada, 3109 American Drive, Mississauga, Ontario L4V 1B2
Links - alanfrew.com - Glass Tiger - Rolling Stone: Glass Tiger - CME: Glass Tiger
---
---